×
BlueGlass Tallinn became
Pineparks
on 23.12.2022. Read the full press release
here

Moto.it – Unique UX design development
MyMoto is the reserved area of www.moto.it, www.automoto.it, www.vetrinamotori.it marketplace web portals. These sites are the premier car and motorcycles websites in Italy where experts, enthusiasts and other 'petrol heads' can get their fix for all things that travel at high speed.
Objectives
We have two different users for these websites and the site design had to bear in mind the different functions and required features of the two groups, private users and professional sellers:
The site has to be easy to navigate for private users between cars or motorbikes, switching seamlessly and quickly.
For private users the site had to integrate social media platforms in an interactive and user friendly way.
We had to ensure that style was effortless and dynamic, giving an exciting, inviting and in depth experience for the user, both dealers and private users.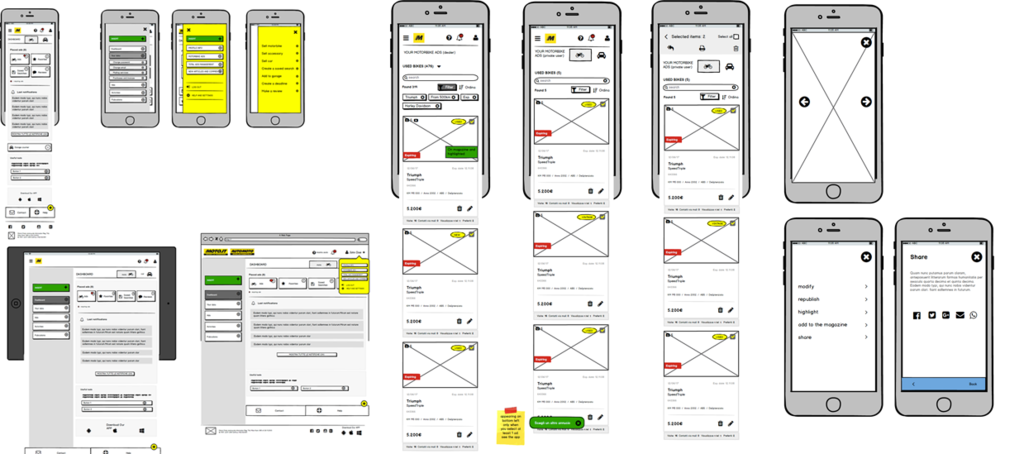 How we did the UX design development for Moto.it
The site is fully integrated with social media platforms for private users interested in either cars or motorcycles. We created an exciting blend of video, links, photos, and in depth articles ensures unique UX which is a dynamic, exciting and interactive.
UX design development & web development making the site easy to update as well as intuitive and clearly navigable for the user.
Users are able to post letters for the editorial staff and makes comments on other users letters.
Saved searches create a list of saved searches, and the user can receive emails and notifications.
We took account of the different needs of the users including:
For private users we ensure that the site can easily access both the car and motorcycle areas, with easy to view options to switch between. We made it easy for users to log-in via social media or if they prefer using their email address.
For dealers, the log-in was with an email and password. They can also only access the motorcycle area or car area (depending if the seller is a car seller or a motorcycle seller).
The dealers can have dedicated websites and they can manage website info from MyMoto, where they can insert new, used and vintage motorcycles, motorcycle accessories if they're motorcycle dealers. Similarly if they are car dealers they insert new, used and vintage cars for sale. Main info like counters (total motorcycles by type), notifications, direct messages from users and direct actions (create new ad, create a saved search, contact dealer, support and so on), plus seller contact for help are incorporated.
All the pages shared the same html structure to easily extract html from the master page. This means that to create a new page we need only to refresh the content page. Form elements are styled with css only, without using javascript to change the layout.
The outcome: A reinvented way for motorcycle or car sellers to present and sell their products online.