×
BlueGlass Tallinn became
Pineparks
on 23.12.2022. Read the full press release
here

e-Commerce for the best wooden houses in the UK
Summerhouse24 needed to provide its customers with a sleek user interface on a high-performance site available for both desktop and mobile access, so they reached out to Pineparks for help.

There isn't a person in the world who doesn't love a nice summer day in the great outdoors. Taking time away from the hustle and bustle of city life to reconnect with nature, enjoying the sun and the lake with friends and family, these moments are the memories we keep forever. For this reason, Pineparks collaboration with Summerhouse24 has centered on making these moments and memories readily available through their friendly, newly designed website.
Client
Summerhouse24 is an international company dedicated to making summer cabins available to all who want them. By directing the process from the early steps of manufacturing in Estonia, to delivery and assembly in the UK and other European countries, Summerhouse24 makes affordable, premium buildings available at the push of a button.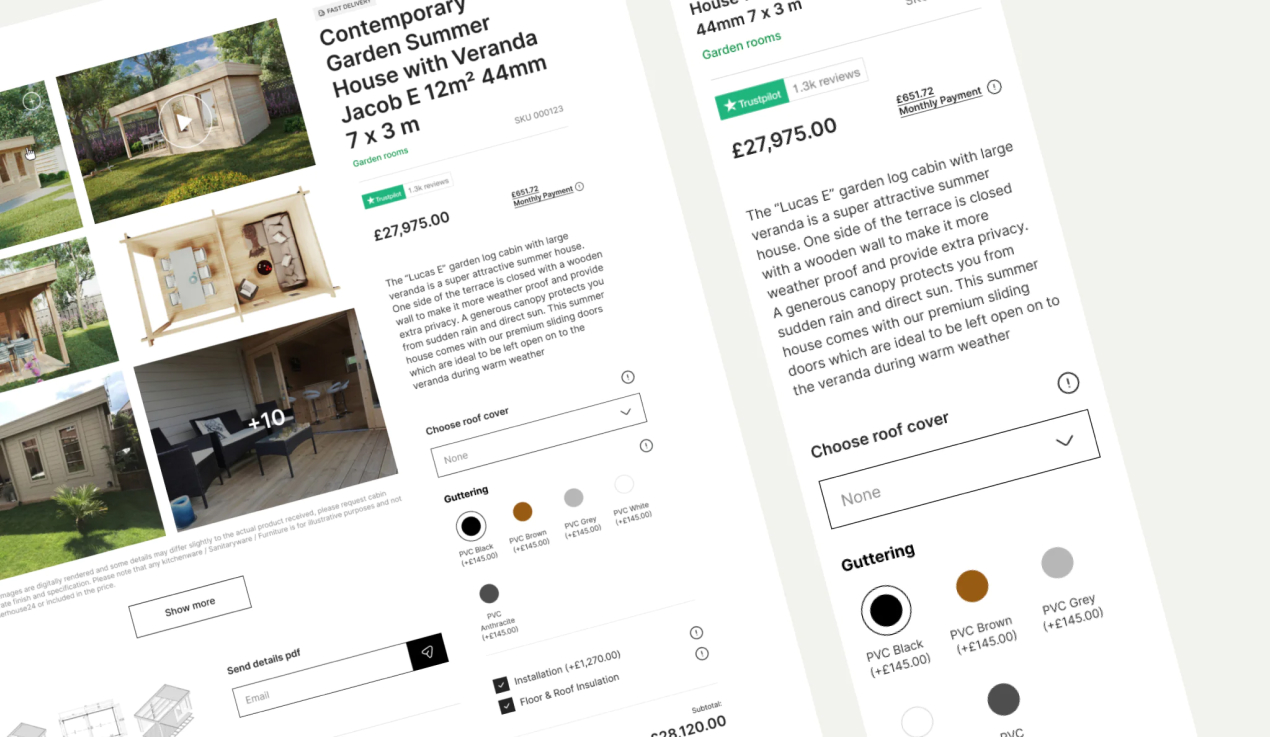 The problem
Summerhouse24 relies on an online interface to showcase its catalog and to accept orders from customers all over Europe. However, their previous interface was rife with issues that limited the company's capacities:
The previous interface was clunky and hard to navigate, producing an unpleasant user experience and discouraging purchases
Subpar performance speeds resulted in lags and delays in the ordering process
An outdated design on the platform undermined customer confidence in the company itself
The former site lacked an easily navigable mobile experience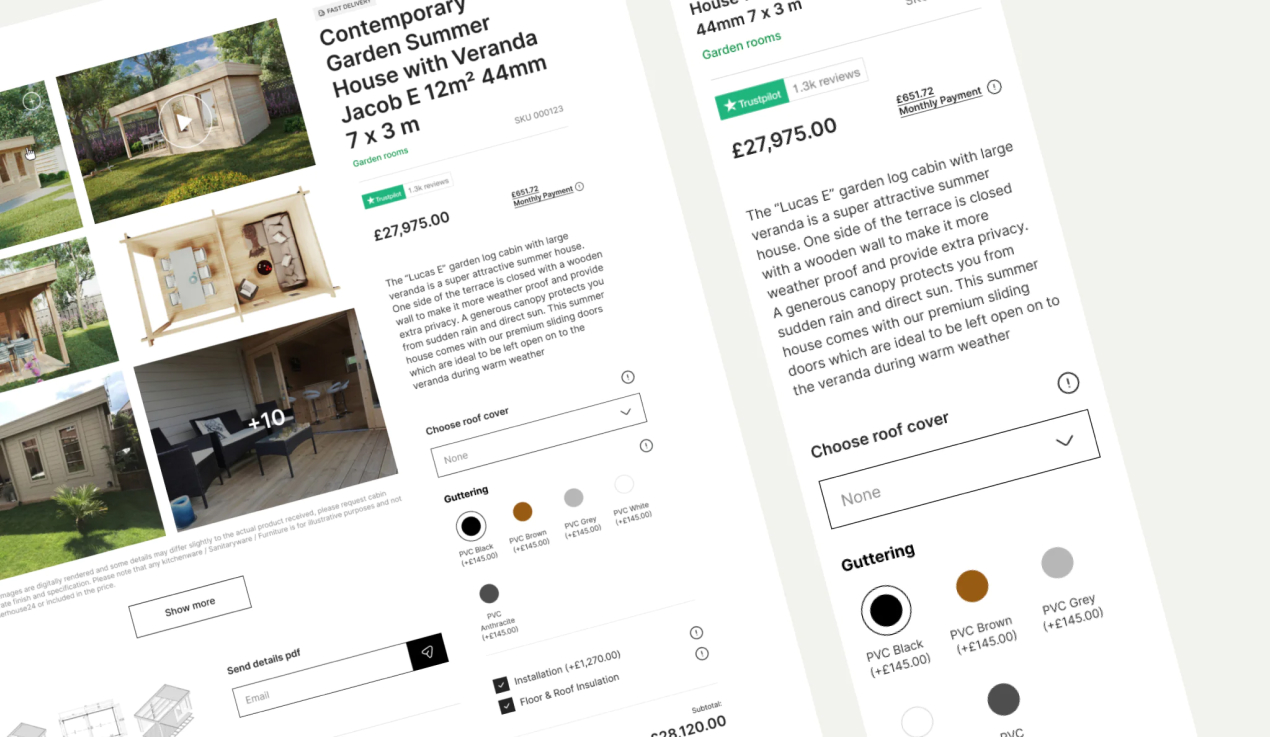 The Goal
The project's objective was to create a state of the art online platform to fully revamp the customer experience. By streamlining the ordering process, Pineparks hopes to increase online traffic with a high-functioning, accessible platform for an easy ordering system across all devices. 
Our Process
From start to finish in the development of Summerhouse24's platform we utilized the Waterfall methodology. This methodology works in a linear sequence of phases, with each phase only beginning after the completion, testing, and revision of the previous phase. Through this process, we were able to specialize the development of each aspect of Summerhouse24's platform and provide a high quality final product by only beginning a step after the previous is perfected.
In this case, after consulting with Summerhouse24, our first step was to offer up a Black/White Wireframing for the desktop version of the site. We then produced a clickable prototype to better hone the User Interface on both the desktop and mobile versions. We then began a phase of usability testing with a 30 person test group, accepted feedback, and improved upon our initial UI accordingly. Lastly, we undertook WP/WOO custom theme development for the project and, after testing in conjunction with Summerhouse24, launched the finished site.
Outcomes
Through this process we developed a revamped e-shop for Summerhouse24, complete with a fully redesigned user experience. On top of this, we managed to upgrade the platform's mobile and desktop speeds to 90+ according to google speed tests, by writing clean, efficient code and avoiding the use of extraneous plugins in the web development. 
Ultimately, we developed a high performance platform which centers quality graphics and a sleek, welcoming interface encourages a streamlined shopping experience and should help to increase sales through the platform.